We Are WordPress Web Designers and Development Veterans
Choosing WordPress for your Content Management System (CMS) puts you in good company with other leading organizations around the world. 
MTV News
, 
BBC America
, 
Facebook
 and Sony are just some of the companies that have chosen it as their platform. WordPress is used by nearly
 60 percent
 of all the websites where its Content Management System (CMS) is confirmed, which is about 32 percent of all websites.
At ADA FOR WEB, we have been designing websites on WordPress since our firm was created nearly a decade ago. That's because we firmly believe it's the best option for our clients. Our team is made up of WordPress experts who also understand and know all the Web Accessibility (WCAG) standards – a double win for you.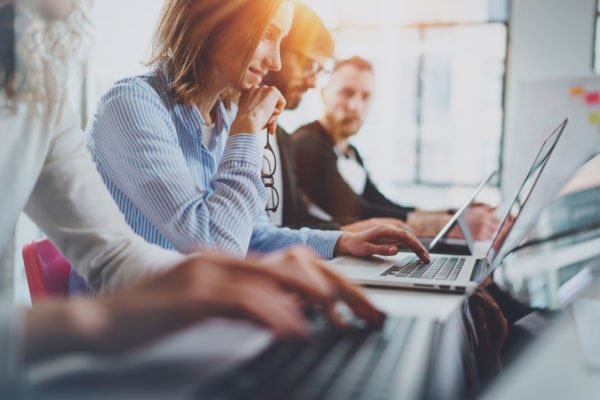 Why Choose WordPress Web Design?
Sure, WordPress is the most popular CMS, but what's so great about it?
WordPress launched in 2003 as an open source platform and it has evolved into something much more than a place for blogs. Each day, 
50,000
 new WordPress sites are launched.
More often than not, WordPress is chosen because it is the most user-friendly option available. It's a simple process to quickly update pages, publish new content, develop new pages, all with beautiful formatting and without needing to know how to write code.
Just a Few of Our Favorite WordPress Features
At ADA FOR WEB, because WordPress is the chosen backbone for most of our client projects, we stay on top of the latest developments including new plugins and options to extend the functionality of WordPress websites.
Here are some of the reasons that our clients love WordPress and all that it has to offer:

Need help? We are available anytime and anywhere!
ADA FOR WEB's Clients Love Our Web Design for WordPress
At ADA FOR WEB, one of the main reasons we've chosen WordPress as our standard is because we are committed to customer experience and giving you more options for your finished website.
Throughout our decade+ of experience, we've found WordPress to be a platform that grows with your organization. This makes it the best option for most businesses and we've received input from our customers that WordPress has proven to be a great fit for them.
At ADA FOR WEB, we have a successful process in place to build you the website you are envisioning. This includes consultation, design and development. We also work with you to make sure your content and site are accessible for all users. We will partner with you to capture your vision, accomplish your goals and reach your audience.
Experts on our team have worked with WordPress since it launched in 2003. That means we know the platform inside and out. Our specialists have changed and adapted with the web as it evolved and we know we need to build you a site for your business that evolves just as rapidly.
WordPress Give You MORE Options and is Flexible to Grow with your Business
WordPress is the most flexible option available for website development today and is ready to evolve as your business needs grows and your needs continue to change. WordPress gives you the comfort of stability and the power of a vast and growing developer community.
Are You Looking for a New Website or a Redesigned Website? WordPress web design comes in two flavors – new WordPress design and redesigned WordPress websites.
When you team up with ADA FOR WEB , we will walk you through our six-step process to help you determine what you need; whether it's a new site from scratch, an existing site to convert to WordPress, or a WordPress site that we can refresh and add new features with WordPress plugins.
ADA FOR WEB 's Web Design Process
Our process includes the following steps: Discovery, Planning, Web Design, Web Development, Website Launch and Maintenance.
By going through these steps together, we confirm your goals, talk through strategy and develop the site together.
Create a New Website
There are many reasons why so many businesses are turning to WordPress for web design and development. There are plenty of templates and plugins that have already been developed, which can cut down on cost and time in the development stages. This also makes adding additional pages simple.
When developing a new site, the benefits of WordPress are overwhelming, which is why so many developers recommend it. Whatever WordPress framework that is chosen, there's a toolkit to help you as you build your website.
Redesign on WordPress
Maybe you have an existing website that was built on a different platform. You may think you'll have to start over. But before you start from scratch, let our team help you convert your existing site onto the WordPress platform. Our team can take your existing website and build it on WordPress. We can also take an existing WordPress website and upgrade it to a new, fresh WordPress platform and give you tools to take control of your site.
Partner with Our WordPress Web Design Company for Accessibility Service. Talk to ADA FOR WEB 's Experts at
949-328-1812
ADA FOR WEB Approved WordPress Plugins
WordPress is a powerful platform with an enormous developer community. The benefit to you is that in most cases, there is not a lot of custom development necessary. If you're in need of specific support such as a recipe database, a trouble-ticket manager, a directory of businesses, or a web calendar that integrates with services like Google Calendar, then there is probably already a solution available. Over the years, developers have created more than 50,000 custom plugins to provide for many different needs. As a result, there is rarely a need for custom software, which can be very costly to develop and maintain.
ADA FOR WEB has already vetted many plugins, which means we're prepared to make recommendations on the best options.
ADA FOR WEB Approved WordPress Plugins